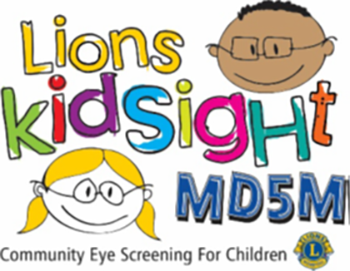 KidSight
KidSight is a free, no-touch vision screening service provided by Lions Clubs. The goal is to catch vision problems before they become learning problems. The target group for KidSight screening is six months old to six years old, although we do screen children up to age 16.
The Process
The fast, safe procedure uses a Welch Allyn Spot vision scanner held three feet away from the child's eyes. After inputting key data such as the child's date of birth and gender, the scanner uses a harmless infrared beam to measure the child's eyes. If all measurements are in range, the parents are informed, but also counseled that this is a screening and not a diagnosis or an examination. If the measurements are out of range, a print-out with all pertinent data is given to the parents who are encouraged to visit an eye-care professional.
The Benefits
The scanner looks for symptoms of seven different vision problems. Children don't know if they have a vision problem because they have no experience to compare their sight to normal sight. They might recognize shapes and letters, but could be suffering from these vision problems: near sighted, far sighted, astigmatism, misaligned eyes, unequal pupil size, cataracts, and lazy eye. The screening also detects eyelid droop.
Lions offer KidSight screenings at Lions fundraising events including Maple Grove Lions Waffle Breakfast, Community Center Trunk or Treat, and Breakfast with Santa. The screenings are also at community events like Maple Grove days and Osseo Lions Roar, preschools and in-home day care centers, and in the Kare 11 Health Care building at the Minnesota State Fair. If you are interested in having KidSight at your event or facility, email info@maplegrovelions.org with KidSight in the Subject line.